You read that right! Spirit Week is here, Drillers! In an electrifying display of unity and enthusiasm, Bakersfield High School is gearing up to host its "Driller Spirit Week" from August 28 to September 1. This event is a promise of camaraderie, competition, and school pride!
Day 1: Last Beach Vacay Day (Monday, August 28)
Listen up, Drillers! Get ready to revisit your summertime memories along the coast with "Last Beach Vacay Day!" From swim trunks to flip flops, the halls will be teeming with a crusade of summer fun. 
Seniors: don't forget about Senior Sunrise at the stadium, taking place from 7:00 a.m. to 8:15 a.m.
Day 2: Twin Day Tuesday (Tuesday, August 29)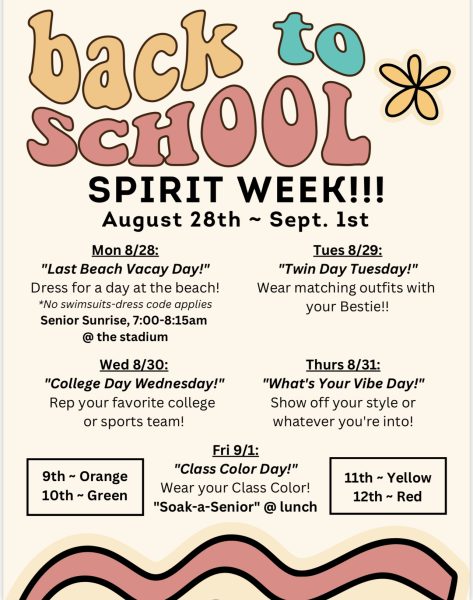 Seeing double? It's not a glitch in the matrix — it's "Twin Day!" Grab your best friend, sibling, or even a teacher, and make them the Thing 1 to your Thing 2! 
Day 3: College Day (Wednesday, August 30)
Have your eyes on that dream college? That's great! You will be able to showcase your dream school's mascot, colors, and merchandise when "College Day" arrives! Parade the halls while displaying your loyalty and pride for your future school! 
Day 4: What's Your Vibe Day (Thursday, August 31)
Having fun so far? Get ready to unleash your individuality and showcase your distinctive style because "What's Your Vibe Day?" is hitting Bakersfield High School on Thursday! This is an excellent opportunity to show off the myriad of personalities that make our campus so bright!
Day 5: Class Color Day (Friday, September 1)
To conclude the exciting week, prepare to paint the halls of Bakersfield High School with a kaleidoscope of vibrant colors as "Class Color Day" takes the spotlight! Freshmen wear orange, sophomores wear green, juniors wear yellow, and seniors wear red! "Class Color Day" is all about celebrating your class pride, so mark your calendars and make this a memorable sea of colors! 
The "Soak-A-Senior" event will be taking place in both lunch periods. Bring your money to soak a friend or staff member! Soak option prices range from $3 to $10.