Watcher: A Hidden Gem of 2020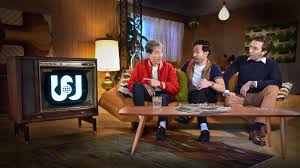 During quarantine it is possible that you have watched every show on Netflix, Hulu, Disney+ or whatever new streaming service you youngsters are watching stuff on. Maybe you don't know what to see now that your favorite youtuber probably got canceled. However I have a solution! There's a channel hidden in the depths of the YouTube algorithm. A channel so chaotic that it's funny. A channel so underrated that I don't know how that's possible cause their founders are really well known. A hidden gem called Watcher Entertainment.
   Watcher is a company founded by Ryan Bergara, Shane Madej, and Steven Lim on April 9, 2019. If you don't know who they are, Ryan, Shane, and Steven were part of a large media company named Buzzfeed and created some of it's top shows such as Buzzfeed Unsolved: True Crime and Supernatural as well as Worth It. Eventually they thought it was time to leave and so they did, and the three of them got together to make their own content and company. That's how Watcher came to be! The company's main focus is to create unscripted content with genuine curiosity of topics such as food, horror, travel and everything in between. As of right now Watcher Entertainment has 12 different shows. Most of them were recorded before the virus happened while recent are made in a safe environment.
   Frankly there's a show for everyone! Want to watch something spooky during October? Check out Are You Scared! Seriously, try watching one alone in the dark with the voice of Ryan Bergara telling you a scary story. Want something more wholesome or laid back, go watch Homemade! A show about family recipes and the difference between restaurant meals and homemade meals! Want some good Asian Representation? There's Grocery Run, a show where Steven interviews content creators such as Guava Juice or Olympic medalists Maia and Shibutani while they go…grocery shopping! Do you like puppets and history? Watch Puppet History as the fun loving but also chaotic puppet Professor takes you on a journey through the wackiest parts of history like the samurai who made a sword out of an oar and yes he killed somebody with it. 
   Overall Watcher Entertainment is a wonderful company with just as wonderful creators. It's authentic and genuinely humorous and content, especially in a time like 2020. Their variety of shows is impeccable and they're different in a way their creators are different. They're heartwarming, spooky, weird and unlike other videos I've seen. They all have their own value and creative differences but I think that's what makes Watcher a good channel, it's different but somehow they fit together. Like a puzzle piece. As of right now Watcher has 847k subscribers and over 37,705,335 views total so if you do like what you see, give them a follow. It'll be weird and/or wonderful.