Barbieheimer is an internet sensation that has been taking the internet by storm. The meme combines two popular new films, "Barbie," a comedy movie about self-discovery and an overall fun watch starring Margot Robbie, and "Oppenheimer," a gritty, three-hour-long documentary film about the father of the atomic bomb starring Cillian Murphey.
Double features have been pretty nonexistent since the 1960s when they were used to bring back popularity to movie theaters. Though "Barbie" and "Oppenheimer" aren't a true double feature, many critics and moviegoers treat them as one. Many see it as a return of double features and a blast from the past.
Some drama surrounding this duo is due to the context and story of "Oppenheimer." 
"Oppenheimer" is about the man who created the nuclear bomb, which was dropped on Japan shortly after. Most of the outraged statements are seen on Twitter. The Twitter tag "#nobarbieheimer" leads to a multitude of posts about the arguably insensitive combination, and the carefree attitude the "Barbie" Twitter account has about it.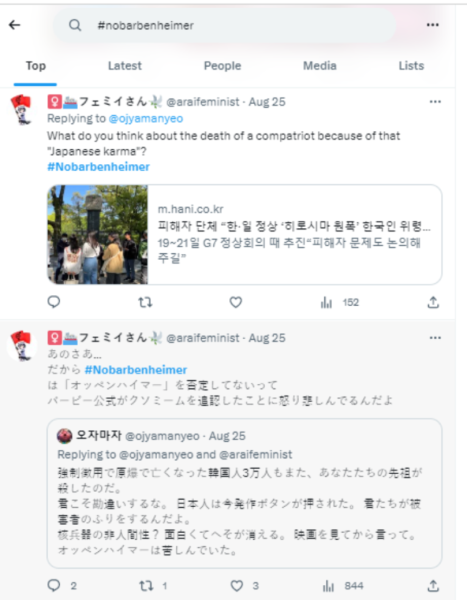 Some rumors surrounding the movie are due to Christopher Nolan, the director of "Oppenheimer," leaving Warner Bros. due to disagreements. Nolan has discussed the disagreements in an interview with The Hollywood Reporter. 
The memes about "Barbieheimer" just show internet users' apathetic and dark humor that is everywhere online. One popular example of dark humor memes from 2023 is the submarine that tragically imploded and killed five people. The memes mocked the implosion because of the low quality of the controller used to steer the craft. 
Although getting upset is arguably morally correct, and people are getting backlash for doing so, people just brush it off and either bring up the attack on Pearl Harbor or the Sep. 11, 2001 attack on the World Trade Center. It is important to note that neither movie mocked the use of nuclear weapons on Japan, and viewers never see the bomb dropped in the movie. The main reason the movies appear to be facing controversy is due to the discussions online.
Even with all of the controversy, the two movies are box-office successes. "Barbie" has made over $1 billion worldwide, and "Oppenheimer" making over $700 million, Box Office Mojo reveals. While neither have similar themes, Both Robbie's "Barbie" and Murphy's "Oppenheimer" performances were well received by fans; "Oppenheimer" holds a 91% community rating, and "Barbie" has an 83% approval rating on the popular movie review page Rotten Tomatoes.